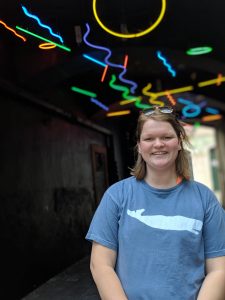 This week, meet Elizabeth Hilton, class of 2019!
Elizabeth is a senior, with a declared Psychology major and Education and Child & Family Studies double minor. She is a THRIVE Mentor and a Coordinator for the  Arts Program at Overbrook Elementary. She's also currently sub-matriculating into an Education Master's Program and Penn.
Her favorite spots on campus are the benches by the Labyrinth and the Moon bench that look out over the Athletic Fields.
Her advice to the first-year class:
"College is a rollercoaster; it is expected that you'll have high highs and low lows. Finding the balance is key. Also, the resources at your disposal are there to help you find that balance – use them! So many people on this campus are ready and willing to support you, and they WANT to help! That's what makes this place great."